This is my favorite box that I get each month. At $21 a month I expect more and they definitely deliver.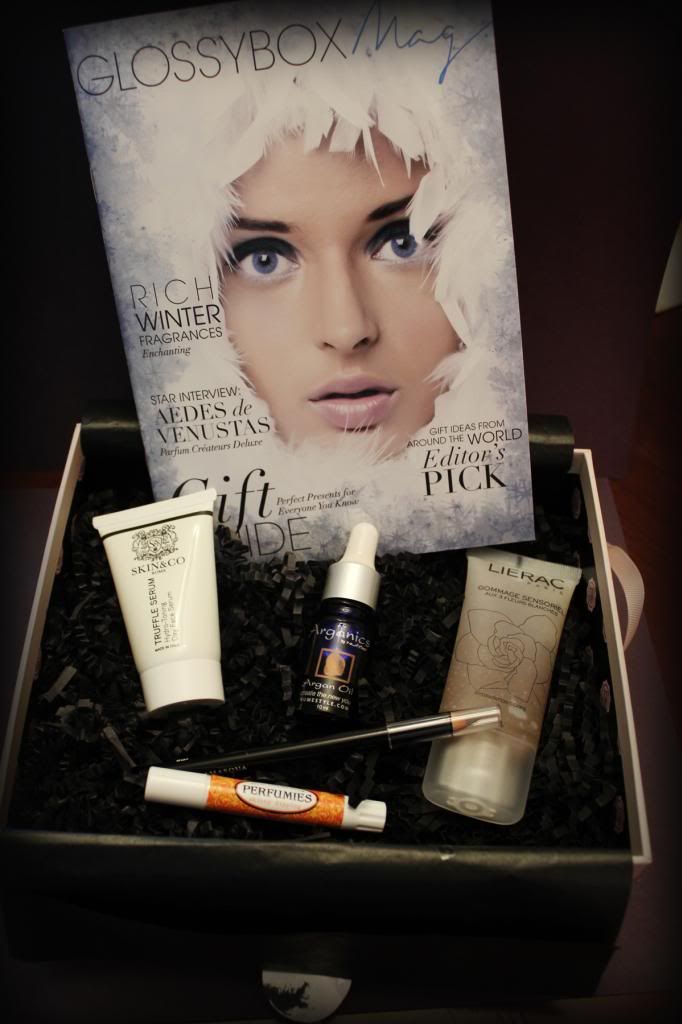 Novenber 2012 Glossybox
This is what I got!
Illamasque Lip and Eye medium pencil. Mine is the color Flinch.
I tried to wear this as an eyeliner and it did not show up. The pencil was a bit hard. If anyone has any ideas for me to use this. I would be grateful. In highschool we would just use a lighter to soften it up. Not sure of I can do that with this. hehe
Lierac Gommage Sensoriel
Everything on the bottle is French (I think). But the BG card says it is a gel-oil texture scrub. It turns into a milk when it comes into contact with damp skin. Smooths, tones, and has invigorating exfoliation.
I have NOT tried this yet. Usually I would have been using this everyday since getting it, but my face is ezema melt down. (sounds sexy doesn't it?!) I am a bit wary about washing my face with it. Later, when I get a chance I will update this post.
I did put a bit on the top of my hand and it has some pretty large coarse bits in it compared to the facial scrubs I am used to. It also has a strong perfume scent to it. I happen to like the smell.
Nume Arganics by Nume Argan Oil
Rich in Vitamin E and other beneficial fatty acids. Non-greasy and specially formulated for rapid penetration.
It says this is good for hair and skin. I have not tried it on my hair yet but I did use it on the top of my hands. It did in fact absorb quickly. My hands very very smooth and soft. I may have to buy it for my body. I really like it and the smell is nice and refreshing.
Nume also included a $100 gift certificate toward their professional styling tools. I looked at the site and the prices are higher than I thought they would be. I know the high end hair gadgets can be quite pricey but I have no personal knowledge about what is or is not too much. I am an air dry girl most days.
Perfumies Solid Perfume Stick- My scent is Skinny Dipping
It is a cute little stick of perfume that would be wonderful if I liked mine. It doesn't smell bad. It is just not something I would wear.
Skin&Co Roma Truffle Serum: Hydro-Toning Day Face Serum
Age fighting serum infused with Peptides, pure extracts of Tuber Melanosporum and Hyaluronic Acid.
I have not tried it. Again I will try after my eczema flare up has went away.
All in all I really like this box. I have to wait to use a couple of things but I am OK with that. Now the waiting for the next box to arrive begins!