NAS is a nail supply subscription service that I signed my daughter up for. She is too young for make up and body products but she got major box/bag envy every time one of my subs came in.
We only pay 9.95 a month since we signed up when it first started. They are going through some changes and have increased the price to 19.95. Hopefully future bags are good enough to attract new subscribers joining.
This month we got.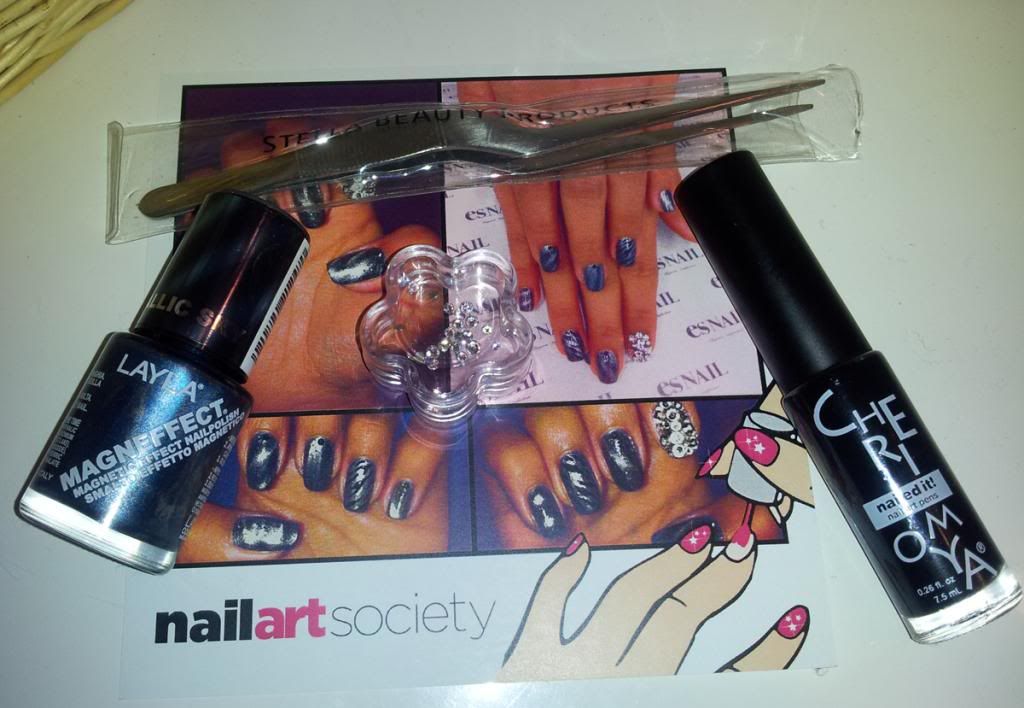 Nail Art Society- January 2013
Layla Magnetic Effect nail polish in Magnetic Sky.
I am glad we got this because I have been wanting to try one of the magnetic polishes for quite awhile but I never seem to pick one up. I like blue polish so the color is perfect.
Cheriomya nail art polish in Black.
I am kind of indifferent to this product. I am sure when I get into doing some detailed nail art it will come in handy. It may even be useful for using on my nail stamping plates.
Small container of crystal looking gems.
We have gotten some sort of gem embellishment each month
.
I have not used any of them yet but that is because I do not have anything but my eye brow tweezers to pick them up. I do not want to get polish on them...
Stella Beauty pointy tweezer thingy.
Perfect!! I am thrilled to get this. It will make picking up the tiny gems and placing them so much easier.
Well done Nail Art Society. I look forward to the up coming months.